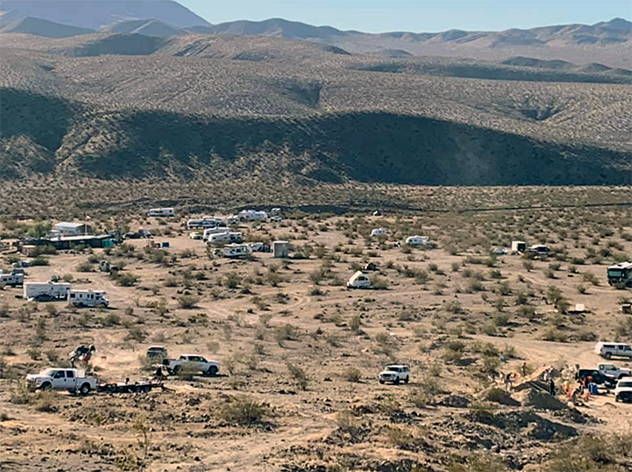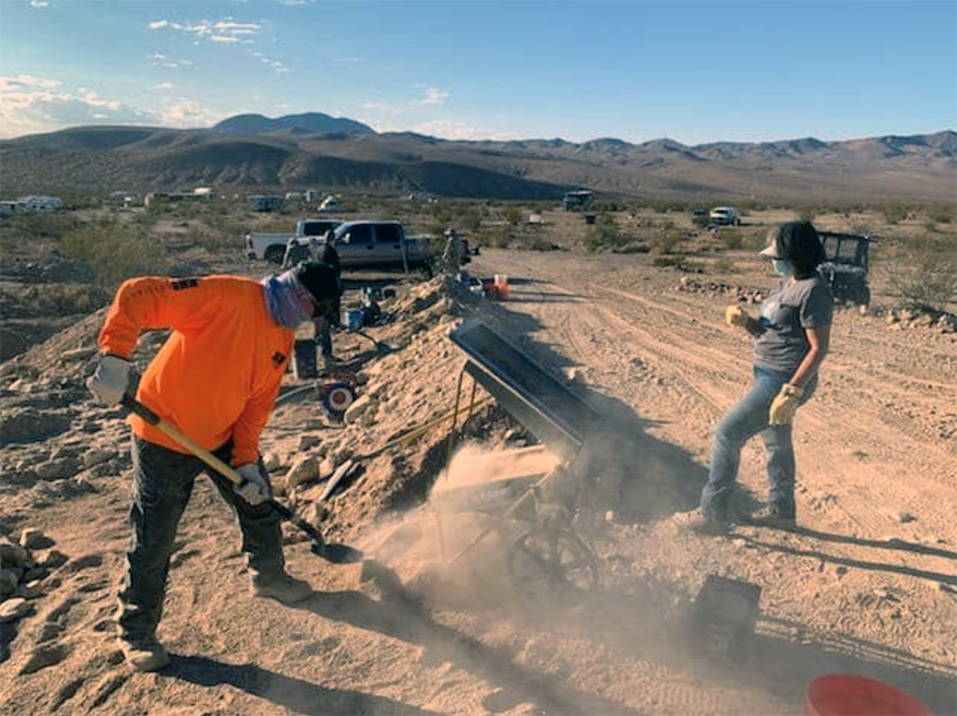 Frequently Asked Questions
Do I need any prospecting or mining experience to participate and find gold? Do I need to bring my own equipment?
All skill levels are welcome to any of our family friendly events, and most events allow participation for all ages. If you've never prospected for gold before, there will be seasoned miners available to help guide and train you as needed from setting up equipment, collecting materials, all the way to recovery of your gold.
With minimal effort, all participants will take home gold. Of course, the more effort you put in, the more gold you will recover. We welcome any participate to bring their own equipment and will do everything we can to accommodate your use (case by case depending on size, permitting, requirements), but bringing your own equipment is not required.
Where can I stay during the event?
Duiesnburg has tent-camping and dry RV camping (sites without utilities) sites available. The camp does offer shower facilities, bathrooms, as well as trash and septic dump stations. The camp clubhouse is open during select hours where guests are welcome to relax and play board games. Excellent phone and hotspot service.
Can my kids, family, or friends stay in my campsite with me? Can I bring pets?
Absolutely! Our camps are family friendly and there are activities available for the whole family. There are no additional fees for family or friends that are planning to stay with you in your campsite, and your guests will be welcome to use the camp facilities, or to participate in activities open to the camp during your stay. The maximum occupancy of any single campsite is 8 guests. Pets are also welcome but will need to remain on a leash for the safety of your fellow campers.
Are there any costs outside of the registration and camping fee that I will be responsible for?
No. Once you are registered, your camping and event participation are covered. Upgraded campsites with utilities, premium sites, paydirt piles, other services, or equipment rentals for private prospecting are available for purchase but are not required.
Can I cancel my event registration? Are there any fees to cancel?
Yes. You can cancel your registration and receive 100% refund of all fees paid for cancellation notices submitted up to 14 calendar days prior to event commencement. Cancellations submitted between 14 and 7 calendar days prior to event commencement will be eligible for a 50% refund of event fees, and 100% refund of camping fees. Any cancellation or failure to show within 7 days of the event commencement will be 100% non-refundable for all fees paid. Cancellations can be submitted over the phone, or via email at info@lostdutchmans.com.
Can I bring my ATV/Side by Side?
Yes. You are welcome to bring toys. The camp is surrounded by miles of open public land to explore and enjoy at your leisure. We ask that they be parked on your campsite during your stay. We do our best to help accommodate parking for trailers and other overflow items on a first come basis. City, County, and State permitting may be required based on intended use.
About LDMA Duisenburg Camp
The Lost Dutchman's Duisenburg Camp is a desert prospector's dream. With miles of open land to mine and explore, there is no shortage of gold waiting to be unearthed.
Dry Camping/Tent Camping Sites Available

Showers

Clubhouse, Card Room

Picnic Tables

Trash Service, Dump Station

Water & Ice Available
This private campground opens its doors to the public during scheduled mining events.
These mining events are a great way to learn mining skills from seasoned prospectors, meet new friends, and of course... Find Some Gold!
Can't make it to an event? Come stay and play at Duisenburg at your leisure and experience what the Lost Dutchman's Mining Association is all about.
Easy Access To Mining Fun
The LDMA Duisenburg Camp is located just off highway 395 in Sourthern California south of Ridgecrest.